Spring has officially sprung and it is the time of year for spring cleaning, renewal and growth. That goes for your digital marketing activity too and it is the perfect time to apply some readiness for the months ahead.
Here are our top tips for a digital spring clean:
1. Spruce up your social activity
Now is the perfect time of year to evaluate all your social media platforms and channels to help identify where you would like to focus your efforts and drop those that are not required for now. Use these chosen channels as a way for people to see more of you this spring.
Over to years we've put together a number of Social Media guides and tips on our blog, take a look at one of the below for a quick 'how to' to boost your Social Media skills this spring:
2. Freshen up your website with the wow factor
Remember your website gives your customers an instant impression of your business. It is essentially a shop window and the customer will make their mind up within seconds as to whether they want to continue. It's one of the most powerful marketing tools you have. But, it's very easy to let the shelves fade from white to grey and get a bit dusty as the to do list gets longer.
Therefore, make sure you give it a fresh coat of paint and the wow factor. It is important to make sure your content reflects your current messaging at all times and doesn't pass it's sell by date. Easy navigation for the user and content that is optimised for conversion is also key on your website refresh. Set Google Analytics goals for your website to measure and analyse the amount of completed activities / conversions.
3. Lose those winter pounds
Before you start any new marketing campaigns, run through your email lists and databases. Delete all the non-responders, those who have gone out of business, and even those you have lost to competitors. With a neat and tidy, up to date client list, you'll see more effective campaigns and a better ROI.
4. Dust off your content
Firstly, make sure your blog posts are current. There is nothing worse than giving the impression that your website is out of date and there hasn't been any new content for months. It gives an impression of a lack of care and attention. Develop a content strategy for posting at least twice a month to keep yourself on track and ahead of yourself at all times.
Give yourself time every couple of weeks to research and write a new blog article. Not only will it generate traffic to your website but it'll be good for your professional development. You never know, researching something industry specific may help with your next client or project!
Get the whole team involved to spread the weight of content creation. It's great to ask people in different areas of the business to write articles. Firstly, it shows the depth of your companies talent and it also gets team members involved in the development of the website.
5. Clean up your case studies
Similarly, to the blog section on your website, make sure you update your case studies regularly. Case studies can give you the opportunity to have a discussion with potential customers about work you have done showing examples. It is a great opportunity to showcase some of your greatest works and impress potential customers.
We've just updated our website and given our case studies page a refresh, adding some new projects and also updating others. It's a great way to showcase all the great things your team have been working on!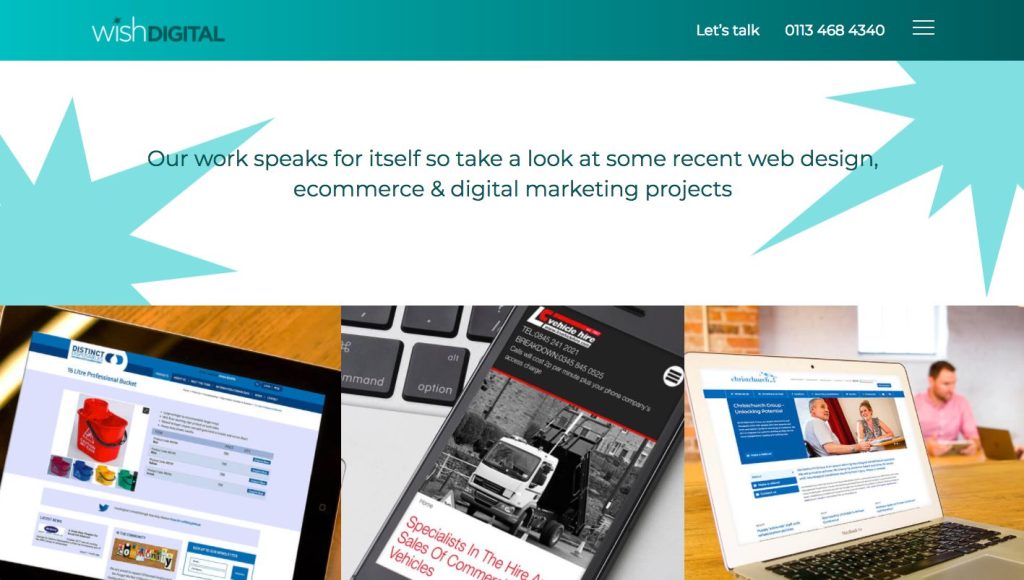 Good luck with your spring clean and if you think you need some help spring cleaning your digital marketing activities then Wish would be happy to help so please get in touch.