An Award-Winning SEO Agency
At Wish we believe in trust. When it comes to SEO, this means doing things the right way.
With a creative and innovative team and a strong foundation of expertise, and knowledge, Wish is an award-winning SEO agency providing high quality SEO services to a global client list. Based in Leeds and London, our SEO team includes a broad range of specialist skill sets.
Our work has impressed and delivered outstanding SEO results for clients such as
CCL Label
,
Arrow Self Drive
and international chemicals giant
Christeyns
. We're very proud of the ability within our team of experts, and as we create
amazing websites
for our clients too, being SEO specialists means we technically optimise them for success.
So, the first step in any client relationship is a review of your current online content and website technical structure – everything from meta data to URL structures, search console & third-party SEO data, web page re-directs to landing pages. Only when that vital insight is explored and fully understood, can Wish lift the bonnet (or hood, for our US based clients!) on your off-site optimisation.
The King is dead, long live the King
They used to say content was King, well, it still is. Whilst SEO techniques have evolved over time (remember Google killing off those unscrupulous operators with their Panda updates back in 2011?), the King is still the King. Great SEO starts with great content, and a well thought through strategy underpins everything that Wish do.
Search Engine Optimisation
Our creative team produce outstanding and effective content that can then be promoted & shared to online communities. We develop SEO strategies that make your website stand out and appeal to Google as the most relevant result for the right search terms. To achieve this, we draw on decades of experience and pull together the perfect blend of skills and SEO services to deliver the desired results.
On-site & Technical SEO
When clever companies build skyscrapers, the first thing they do is build the most solid of foundations. We believe that technically optimised websites are the key to a healthy foundation for your SEO strategy.
Our Leeds & London based team review and enhance this for our clients, which may include speed performance, elements on the page, mobile-first optimisation, writing, optimising and checking the state of rich snippets and meta data, accessibility and other components that create a great impression with Google's search algorithm 'spiders'. Our team use a range of tools to aid this process and identify opportunities, such as Google Lighthouse, SEO Moz, SEM Rush and Screaming Frog
Other areas we then revise and apply our SEO techniques to include:
Headings i.e. (h1, h2, h3) and their use on the website
Creating SEO-friendly URLs
Optimising image & media files
Checking and implementing canonical and where needed hreflang tags (helpful for our international clients) Reviewing schema.org structured data
301 & 302 redirects plus other important redirection implementations
Our on-site SEO optimisation doesn't stop there, our retained clients benefit from monthly monitoring & reviews to continually enhance the website's performance as Google, mobile devices and web browsers advance and update their services.
SEO Campaigns
There are a few key areas of work that make up a successful SEO campaign, namely these are:
Content Production
As we've already discussed, content remains King. But the quality and variance of content is hugely important. Your existing content will be reviewed and optimised to ensure this is fighting for the cause too. All content should be optimised with a focus on your human audience, not the Google robots. This doesn't necessarily mean you minimise written content to a few sentences, which may be preferred by some visitors and could lead to greater conversions. It just means you need to structure your content effectively and use more in-depth content where it can be effective for your SEO strategy.
Our content production services include the planning and creation of a varying selection of content types. This may be creating an infographic to accompany your industry opinion piece, or an animation video. We create videos using still imagery, or where professionally shot footage is available we can edit and use clips to great effect in amongst written content – our content writers write engaging, compelling content focused on your target audience.
Online PR
A website should have a strong backlink profile to be truly competitive in search engine result pages (SERPs). Online PR is another key ingredient of a successful SEO strategy. This is named as such because it's basically PR, but online. Developing a quality link profile can be a challenging and time-consuming task, and without the know-how there are many crevices to drop into as you make your way up the mountain.
Our proven methods help our clients achieve the perfect blend of content types, syndicated across various media and influencer web properties. Like traditional PR, this involves outreach to strike up relationships and trust with quality web properties in your market place, to source and implement strong link opportunities.
Local SEO
With a large proportion of our client's multi-location or multi-site organisations, local SEO creates an important opportunity. Our team are incredibly well-placed to assist with localised SEO optimisation, from localised link generation, Google Business profiles to area specific content or landing pages such as this example for our client Arrow Self Drive.
Whatever your business offering may be, our approach to Local SEO is aimed at achieving long-term success with local and mobile search marketing in your business areas.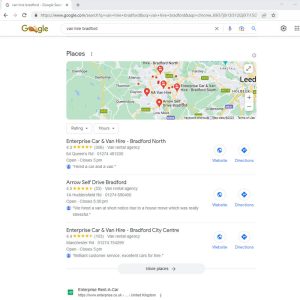 Reporting & Data Analysis
We love reports as it's our chance to demonstrate the results we're achieving for our clients. The start of each month is a report frenzy, as we prepare website support reports, analytics reports, and marketing reports across all the areas we support our clients. When it comes to SEO, reporting enables us to review data-led progress and inform our decision making to enhance the campaign moving forward. KPIs that we agree can be measured and understanding real results within client businesses plays a key part in the reporting process.
Our reports are customised on a client basis but use Google's Looker Studio to visualise data from Google Analytics, Google Search Console and other tools depending on the campaign in question. Transparency regarding the performance of campaigns is paramount, so we will work with you to prepare dashboard reports that give you the data you need for internal MI.
Of our clients are B2B organisations, making Wish a specialist in B2B marketing since 2003
Doubled organic traffic to the label.co.uk ecommerce website over the course of a 24-month campaign.
We specialise in building trust through online high quality PR & specific content focused campaigns.
Thank you to the ever-wonderful Wish Agency team, who have worked with Exemplar Health Care to develop our design & brand into something we can all be so proud of. Positive, creative & always, always fun. I can't recommend these guys enough
K.T.
Head of Marketing, Exemplar Healthcare