Digital Marketing Leader
At Wishagency.co.uk we're working together to deliver amazing marketing outcomes for our clients. Our agency 'Client First' ethos, creates happy clients and strong results, garnering those all-important long-term relationships. We couldn't do it without our wonderful people who are exactly what it is that our clients love.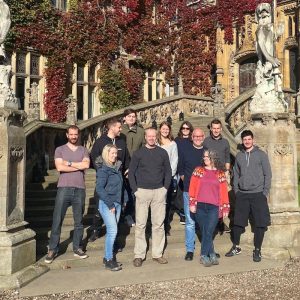 As our new Digital Marketing Leader (job title fully negotiable!), you'll have a major impact on helping us achieve our goals. As we celebrate our 20th year in business, we are delighted to work with fantastic clients that span the globe, from Yorkshire to London, London to New York, and Europe to Kuala Lumpur – we've built up a wide variety of companies and people that we work closely with to achieve great results.
As an Agency, we provide a wide array of services across the marketing spectrum, however digital marketing is pivotal to almost any marketing strategy. This is where we need more talented people to join our team and bring with them a wealth of experience delivering outstanding campaigns, either in-house or within an agency environment.
You're probably now asking: What's in it for me? As our Digital Marketing Leader, you'll have access to a wide range of benefits including, hybrid working (we're currently in the office 3-4 days per week with hybrid working flexibility for the team), Health insurance & rewards through Vitality, choice between our rural or Leeds city central office locations, annual salary reviews and events.
 This is a role for someone either already in a senior or management role in digital marketing, or someone ready to take that next step in their career. Either way, we're looking for a go-getter with fierce ambition to grow with a business where there is a future progression path to become part of the senior leadership team.
Using all of your skills you will be responsible for the creation, delivery, and performance of multichannel marketing campaigns for our diverse range of clients.
You'll need to be a confident and excellent communicator, in regular contact with your clients, developing and strengthening professional relationships. Managing your own schedule, you'll be well organised, good at prioritising work and responding to time pressures.
As a creative thinker you'll have the confidence to identify new opportunities and turn them into reality, enhancing client relationships and the results we achieve. You'll have experience managing digital channels and strong technical ability. This is an extremely rewarding role which will see the successful candidate join a busy, successful, and motivated agency, working in a fun but professional environment, reporting directly to the company directors.
Essential skills and experience:
3+ years' experience in a digital marketing role
Understanding of basic marketing principles
In-depth understanding of marketing & analytics tools –Google Analytics, Search Console, Google Ads, Facebook / LinkedIn & other digital advertising platforms
Excellent communication and people skills
Experience managing key digital channels
Confident managing budgets
Commercially minded, understanding how client businesses operate and how we deliver the right results to generate success
Excellent organisational skills
Up-to-date with new technologies and latest marketing trends
Proactive, self-starter, able to work in a fast-paced environment
Ability to work without supervision, managing your own workload
Innovative and fast learning
Attention to detail and high standards
Who Are Wish?
Wish is an independent full-service agency providing creative marketing & digital solutions to business challenges & objectives. Our digital marketing team specialise in developing conversion optimised, technically excellent online campaigns. Through strong client relationships we have created an agency that delivers outstanding results, success and creates fantastic careers for our talented team of digital marketing experts.
Our core digital products and services cover: Digital strategy, website design and development, digital marketing – SEO, PPC, Email marketing, CMS and ecommerce implementations, Integrated Campaigns, mobile, apps and social / digital campaigns.
We're a growing team working out of our studio in an old Granary building near Wetherby and our offices at Platform in Leeds City Centre.
Need more convincing?…
We Pay You.
The correct salary – We don't detail a salary range as this is a sensitive topic and this ad is targeted at multiple potential role types, salary is completely negotiable, dependent on the individual and the experience and qualities they may bring to the role – but feel free to email us with your CV and we're happy to talk money before you commit time to an interview if preferred.
An Enviable Portfolio.
You will get to work on exciting projects for a wide variety of clients, some you will recognise and you'll also learn about businesses you've never heard of! As well as established client relationships that we must support, we have a very active new business team creating attractive new opportunities. Sounding good?
A Talented & Friendly Bunch.
You'll join a fantastic team of people who are driven to produce the best digital experiences on the web, we make sure it's an enjoyable and a creative place to work.
Personal Development.
Reap the rewards of an exciting career path that lets you evolve your skill set. We're growing and changing all the time and we love it – so we want our staff to grow and change too. You will learn and learn fast whilst bringing your own talents to an already talented team.
Never a Dull Moment.
As well as a very varied studio playlist (some strange tastes in there), every week throws up new challenges, successes, laughter, stresses, rarely tears, and we're always learning!
All the Latest Equipment.
High end equipment for all our staff including an Apple MacBook which can also be used personally.
And lots more.
Annual leave (err, of course), pension plan, training and development. Optional social events with the rest of the gang, lunchtime runs if so desired (we have showers), amazing location in beautiful countryside just near Wetherby and off the A1 – no traffic making for a pleasant commute when in the office! The list goes on and on….
What are you waiting for?
If this sounds right up your street, then get in touch today. Email Chris or Wilf with your CV and a brief cover letter explaining why this role may be of interest, to [email protected].