Believe it or not, Instagram turned 10 last October.  Set up in 2010, Instagram's primary focus is as a social media app for sharing photographs and video, specifically images taken on mobile devices.
2020 brought huge growth for Instagram and a raft of new features.  Widely viewed as the most rapidly evolving social media platform, Instagram registered over 1 billion
users at the end of 2020 and as forecasted by eMarketer,  is set to reach 1,074m by the end of this
year.
Closer to home, Statista advised that in June this year, Instagram had around 28.89 million UK users, with 31.8 percent of these users, the largest share, being aged between 25-34 years old.
Basically, the app allows individuals to upload photos and videos, edit and organise them, adding location information and hashtags.  The service added a messaging feature and
capability for users to include multiple images in the same post and most lately more creative tools.
So how does this relate to marketing for businesses?
The Instagram Stories feature is used by half a billion people a day and can be viewed by users for 24 hours after posting.  It's one of the most popular features and now
an important channel for brands.
Before you can start using Instagram for business, you do need to set up a Business Profile Account, which offers additional features and the
ability to run ads.
Here are some tips to get the best out of an Instagram marketing strategy:
It's a visual platform so spend time to put together engaging, quality content. You are creating content that will attract
your audience and lead them to connect with your brand.
This will take trial and error and often works best if you don't directly include product images.  Think outside the box.
Keep a theme and a consistent tone of voice.  This will help create stronger connections as users will get to know and like your posts.
Think about video content – up to 1 minute and carousel ads for multiple variations.
Example below from the Wish Instagram feed showing video feed for 161 London
Engage and directly connect with the audience where you can.  React to comments, run competitions, use the Polls feature.
Use an influencer who has already built up an audience and has a trusted 'voice'. One that reflects the values of your brand.  Levi posted a comment on racism picturing Marcus Rashford wearing Levi clothing.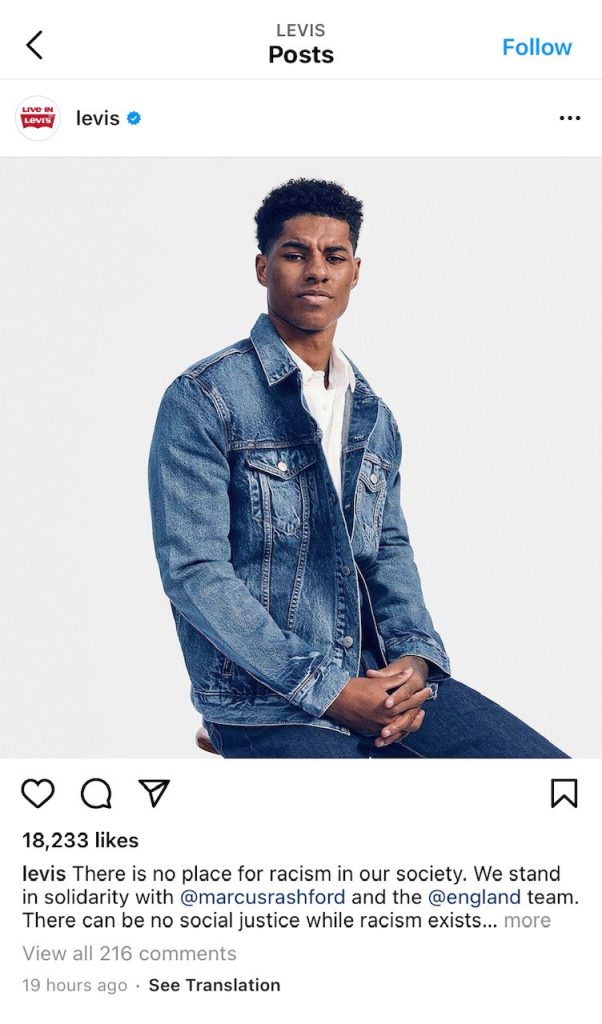 Set up an Instagram Ad campaign.  You do need a Facebook account to access this feature. The posts come up as 'sponsored' and you can add a call to action. Think about what you want the user to do next. Instagram Insights track how well the ad has done.
Consider using the Shoppable Posts feature which provides a seamless shopping experience, taking shoppers directly to the product description page within Instagram where they can purchase.
And finally, as it's a visual platform, there's lots of competition for attention so be creative.
Instagram is not for every business but for those targeting millennials it's worth adding to your social media strategy.